Wireless Communication as an alternative to cables
Wireless communication – quick, easy and economic ways to connect mobile & decentralized components in machines and plants
Alternatives to cable and their practical advantages and disadvantages
Flexibly adaptable production plants, multi-axis robot systems and decentralized machines – they all place high demands on signal and data transmission. When moving or rotating parts as well as mobile systems are to be integrated via PROFIBUS, PROFINET, PROFIsafe and other fieldbus protocols, wired solutions reach their limits. Absolute reliability is just as important here as long service life and freedom from maintenance. The permanent availability of machines and systems without downtime can only be ensured by a secure connection between controllers and IO modules.
Solutions for flexible data communication
For this purpose, several alternative technologies to the cable have become established that enable wireless connection and communication of machines and systems and meet the growing demands for mobility and flexibility. They all have different properties and specific advantages and disadvantages. Whether crane system or networked production, autonomous robots or large-scale industrial plant: The choice of the best possible solution for your use case ensures the efficiency and cost-effectiveness of the application and protects against unplanned downtimes, which often lead to high follow-up costs and, in the worst case, to the customer not being supplied in the agreed timeframe.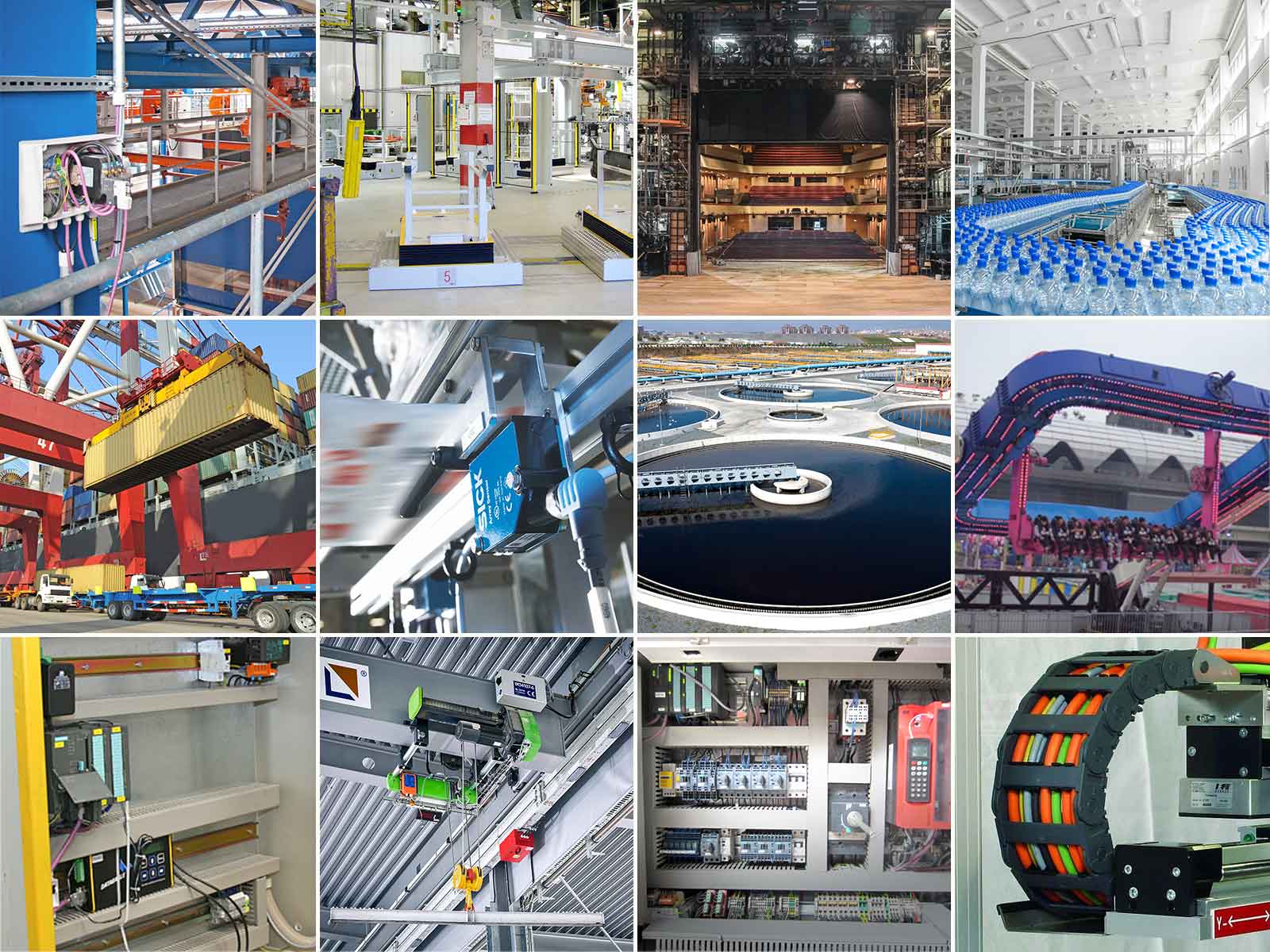 The 7 most important factors for selecting a wireless communication solution
If you are expanding or modernizing existing plants or developing new machines: Consider the following factors when replacing cable connections with wireless communication:
Flexibility of the plant design: How mobile or modularly changeable are plants and machines in the connection?


Topology: Linear point-to-point connection or complex network?


Speed: What latency is acceptable?


Range: Which distances need to be bridged by the connection?


Robustness of data communication: How fail-safe does data transmission have to be?


Maintenance-free nature of the system – Corrosion and wear accur with some of the data transmission solutions.


Acquisition costs: How expensive is the chosen solution for the initial installation?
"Modular systems, moving parts and multi-axis robots: for these data transmission purposes cables reach their limits."
Technologies for industrial wireless communication – replacing cables with radio
Trailing cable / cable chains
A popular solution for fast and secure data transmission for moving equipment is trailing cables – this is why they are mentioned here for the sake of completeness, even though they are not a "wireless" alternative. While inexpensive in the initial installation, drag chains or cable chains limit the mobility of connected components considerably. In addition, they wear out very quickly in continuous industrial use and the replacement can be a complex task – in addition to necessary fault diagnostics and the risk posed by damaged cables. This has a negative impact on the total cost of ownership in the life cycle and the economic efficiency of the machines and systems.
Electrical slip rings
Slip rings enable the transmission of power and data between fixed and rotating components by means of physical contacting. They are available in many sizes and variants. With more and more sensors being used and increasing interconnectedness in the IoT as well as higher data rates and real-time requirements, slip rings are increasingly being replaced by wireless solutions, which are also possible as a retrofit for existing slip ring applications. One disadvantage of slip ring technology is the wear inherent to its functional principle, which can lead to downtime due to unplanned maintenance and machine downtimes.
Data light barriers
Data light barriers can be used for distances of up to 300 meters. They are characterized by high transmission speeds of up to 100Mbit/s and are largely maintenance-free, apart from regular cleaning of the transmitter and receiver unit. However, data light barriers only work in case of intervisibility, without height offset and, unlike radio transmission systems, cannot be used for multi-point networks.
Inductive data transmission
In this process, data is transmitted by inductive coupling – contactless and thus without mechanical wear and tear. The technology is used as an alternative to slip rings or for special applications such as electric suspension tracks or monorail. However, they are significantly less flexible than radio systems, require high maintenance and are relatively expensive.
Leaky Cable
With this technology, two different antennas ensure data transmission without intervisibility. However, due to the sensitive receiving antennas, the process is susceptible to interference. The high initial price for installation as well as wear and tear lead to comparatively high costs in the life cycle and thus have a negative impact on the cost-effectiveness of the solution.
Radio data transmission: the reliable alternative for cable connections
Radio data transmission systems are ideal for mobile and flexible plants and machines as well as for connecting moving and rotating parts in a plant via fieldbus protocols: they can be used with all common communication standards such as PROFIBUS and PROFINET, among others, are fail-safe, and also enable extensive networks with multiple controllers and IO modules that can be distributed over larger areas.
>> More info in our blog article: Using radio data transmission to create stable and reliable automation solutions.
"Wireless technologies are becoming increasingly popular and demand is growing, not least due to Industrie 4.0"
Preventing fieldbus errors with secure radio transmission
The main challenge for radio data transmission systems: In order to function without failure, the specified maximum response time must be maintained. Radio interference can extend the transmission time and then lead to failures, which in turn can cause breakdowns and standstill of the machine or plant. To prevent this, a reliable radio transmission should be prioritized when selecting the specific radio solution. For the DATAEAGLE radio systems, Schildknecht uses a patented technology for stabilizing the radio connection, which prevents fieldbus errors caused by lost or delayed transmission of data packets. In conventional systems, data packets are transmitted without preprocessing, which can quickly cause overload in the radio connection and then lead to failures. In contrast, the patented technology analyses and preprocesses data packets. When transmitting PROFINET telegrams, for example, the data packets are prioritized over general Ethernet traffic. Short-term radio interferences are bridged by intermediate storage of the data packets and an adjustable 'filter time', resulting in secure real-time communication between the controller, IO module and radio data transmission system.
[Video: Wireless 101 - How wireless solutions work]
Find the optimal solution for your application
Radio systems with stabilized radio transmission are characterized by reliability and long service life without maintenance, by secure communication and robustness against interference. This makes them ideal for use in industrial plants and machines. The patented DATAEAGLE product group also offers maximum flexibility and easy plug & play installation. This allows you to quickly and easily get the perfect solution for wireless data transmission.
What are the special requirements of your application? We look forward to finding an optimal solution together with you!