OT & IT convergence
Everything connected, from the factory floor to the boardroom
No doubt it's a fascinating thought: to be able to connect and monitor every machine, system, and computer in a factory and to get a holistic overview of it all, in one single dashboard. We're on the road to total transparency, from your CEO's desktop computer all the way to what's happening right now on the factory floor.
The convergence of IT and OT is opening the door to this brave new world. No machine is an island - not anymore. Production equipment is increasingly connected, and Operational Technology is tighter and tighter intertwined with servers, routers, switches and all the other grey boxes making up the IT infrastructure of a company.
IT/OT convergence reflects on monitoring tools as well. The times are long gone when you looked at both worlds separately. Instead you need a holistic view. In so many places IT and OT depend on each other. For instance, if you experience a connectivity problem, what is the cause? Is it the machine, is it the gateway or is it something concerning your Ethernet network?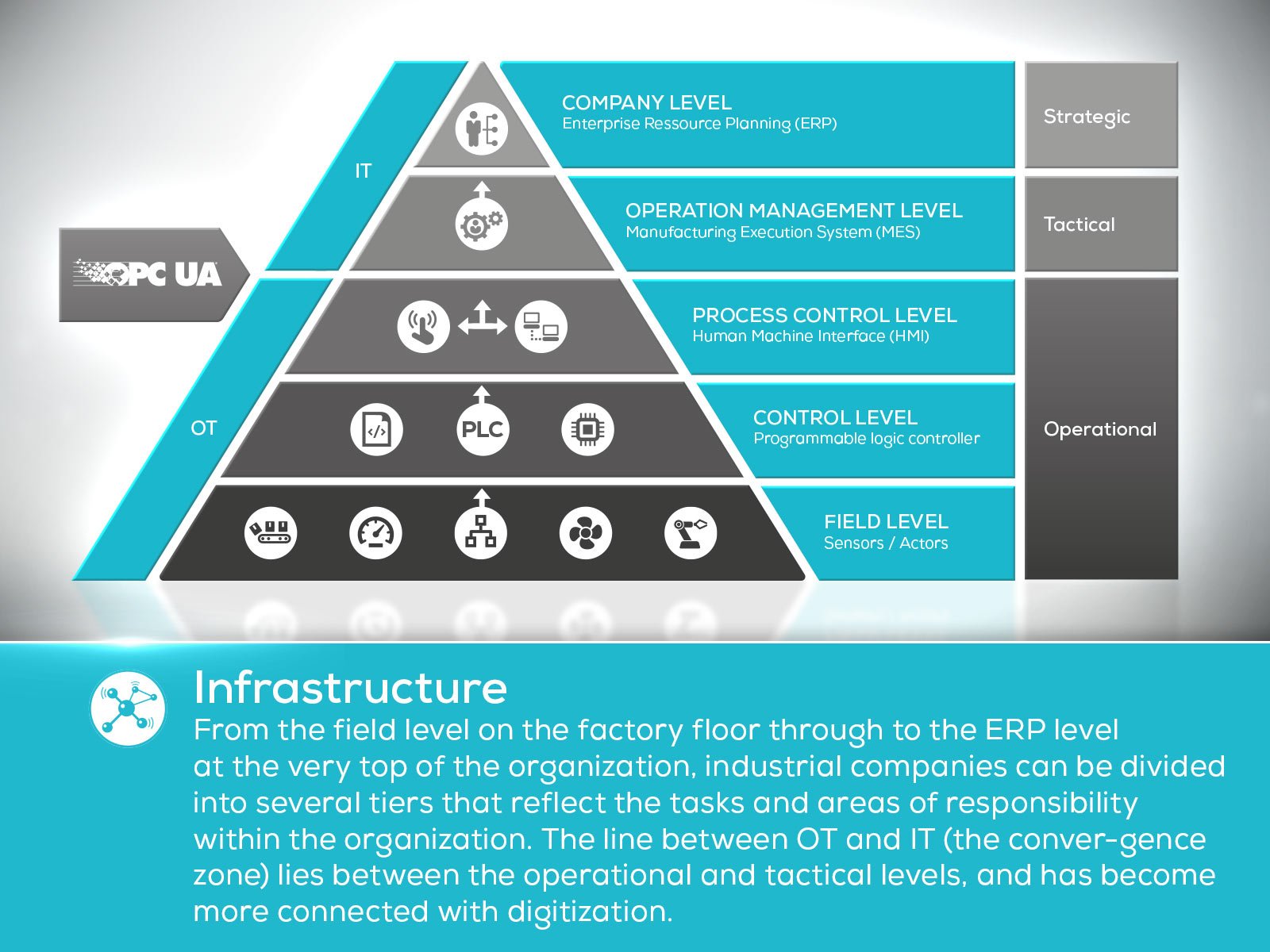 One moitoring platform for IT and OT
To solve those problems efficiently you need a 360 degrees overview, and a system that integrates all your monitoring data into one single platform. However, although your end goal might be to create a holistic OT/IT convergent monitoring system, you want to avoid investing in a huge a system that is overly complex and time-consuming to install and configure to fit to your needs. You want to be pragmatic and practical about it, and you want to build your solution step-by-step. You want to experiment, adjust, and correct as you go along, without having to buy an aircraft carrier's worth of software licenses and equipment.
Traditionally, we've had two kinds of monitoring solutions for industrial IT: One for monitoring the IT side of things, and one for overseeing Operational Technology (OT) aspects. But the convergence of industrial IT – integrating OT and IT – requires a more standardized approach. This standardized approach is exactly what the PRTG Network Monitor is offering, with its functionality for OT monitoring.
PRTG is the perfect all-round monitoring system for your plant, because it offers powerful IT-monitoring, and supports numerous common industry protocols. Moreover, it comes with a licensing setup that doesn't limit the number of users (PRTG is licensed according to the number of sensors or "data collectors" you require).
Scalable and flexible both in IT and OT-Monitoring
To meet these requirements Schildknecht has teamed up with PAESSLER to make IT/OT convergence in Condition Monitoring scalable and flexible, and maybe most importantly: with a fast and easy entry.
The PAESSLER PRTG Network Monitor was originally developed for monitoring IT infrastructure. It is well known for its out-of-the-box support of most of the IT protocols and standards that help system administrators monitor their infrastructure. This includes SNMP functionality, bandwidth monitoring with common methods like flow protocols or packet sniffing, and access to device metrics via RESTful API. PRTG is broadening its scope going from standard IT infrastructures to integrate OT scenarios and supporting OT protocols like MQTT, Modbus TCP, OPC-UA, and JSON. This means you can achieve a holistic overview of your entire IT/OT setup in one tool.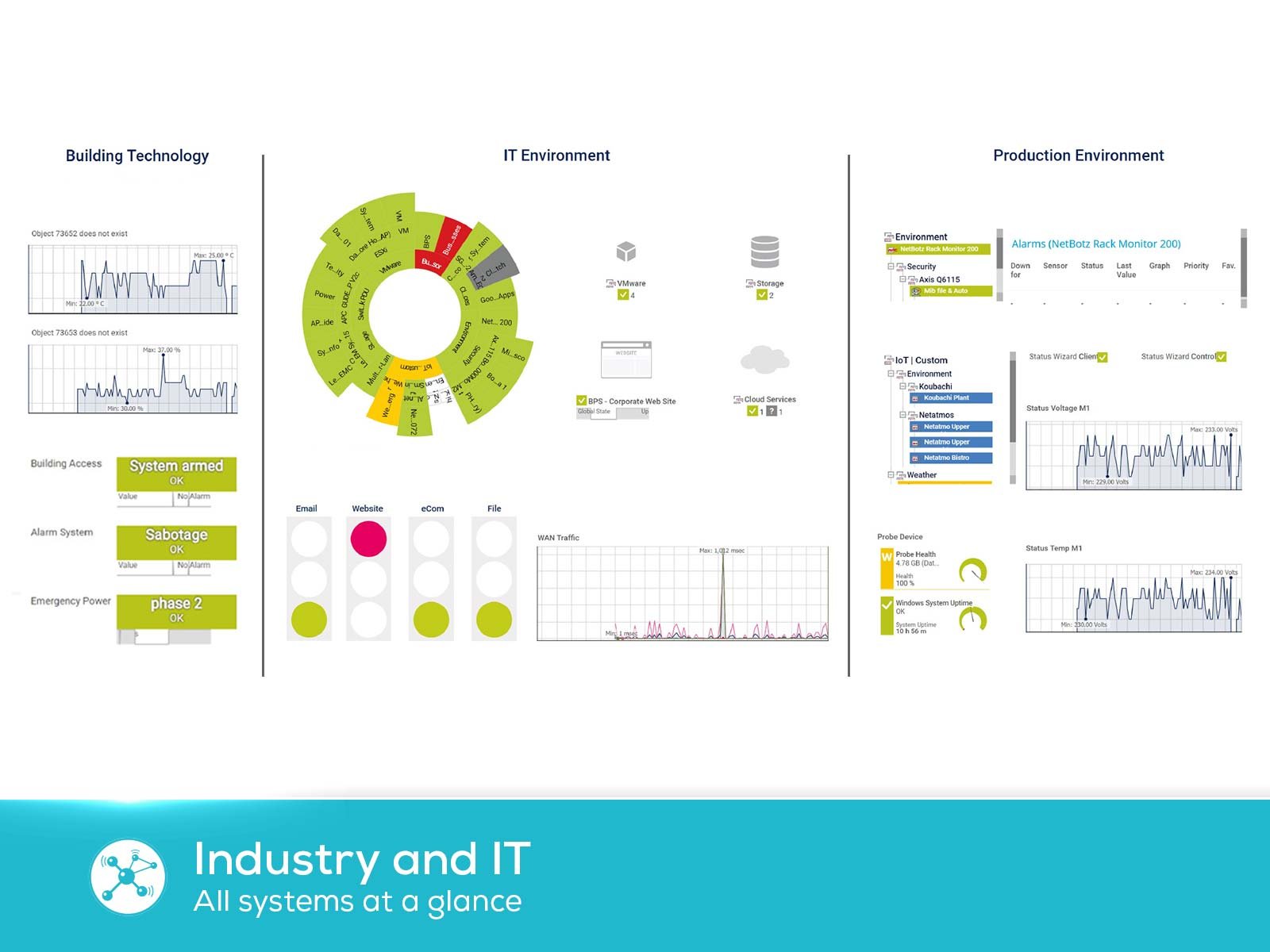 Monitoring of old and new machines on the factory floor
While PAESSLER is coming from the IT world and opening up to the OT world, it's the other way round with Schildknecht. Being an expert in industrial radio data transmission and an IoT system provider we know a thing or two about collecting data from the factory floor. With our IoT Ready-To-Use products we offer an efficient, scalable and cost effective solution for Asset Monitoring on the factory floor (OT). For instance, we can retrofit older machines, which are not connected to the network, with sensors measuring vibrations, temperature, noise etc.
By combining Schildknecht's monitoring and data transfer technology with the PAESSLER PRTG Network Monitor you can design a Condition Monitoring solution including both older machines without network connection and new machines already connected to the network. With Schildknecht you can include all OT interfaces. This enables you to set up production-wide monitoring of all your machines and equipment and to channel all your data into one dashboard.
Easy to get started and to use
And maybe most importantly – it's super easy to get started. For instance, PAESSLER is offering a free of charge proof-of-concept license. You can download it from their website and start right away to fit it to your specific use case. Likewise, the Schildknecht IoT Ready-To-Use system for condition monitoring is easy to set up with no integration needed. Its multi-sensor has magnets for easy installation, and to avoid the hassle of installing extra wiring, the system's gateway uses radio communication to forward monitoring data to the backend. Read more about the IoT-Ready-to-use Condition Monitoring System to get started right away!
The DATAEAGLE gateways use the Modbus TCP interface to connect to the PRTG Network Monitor. With the available device templates the integration is easy and quick.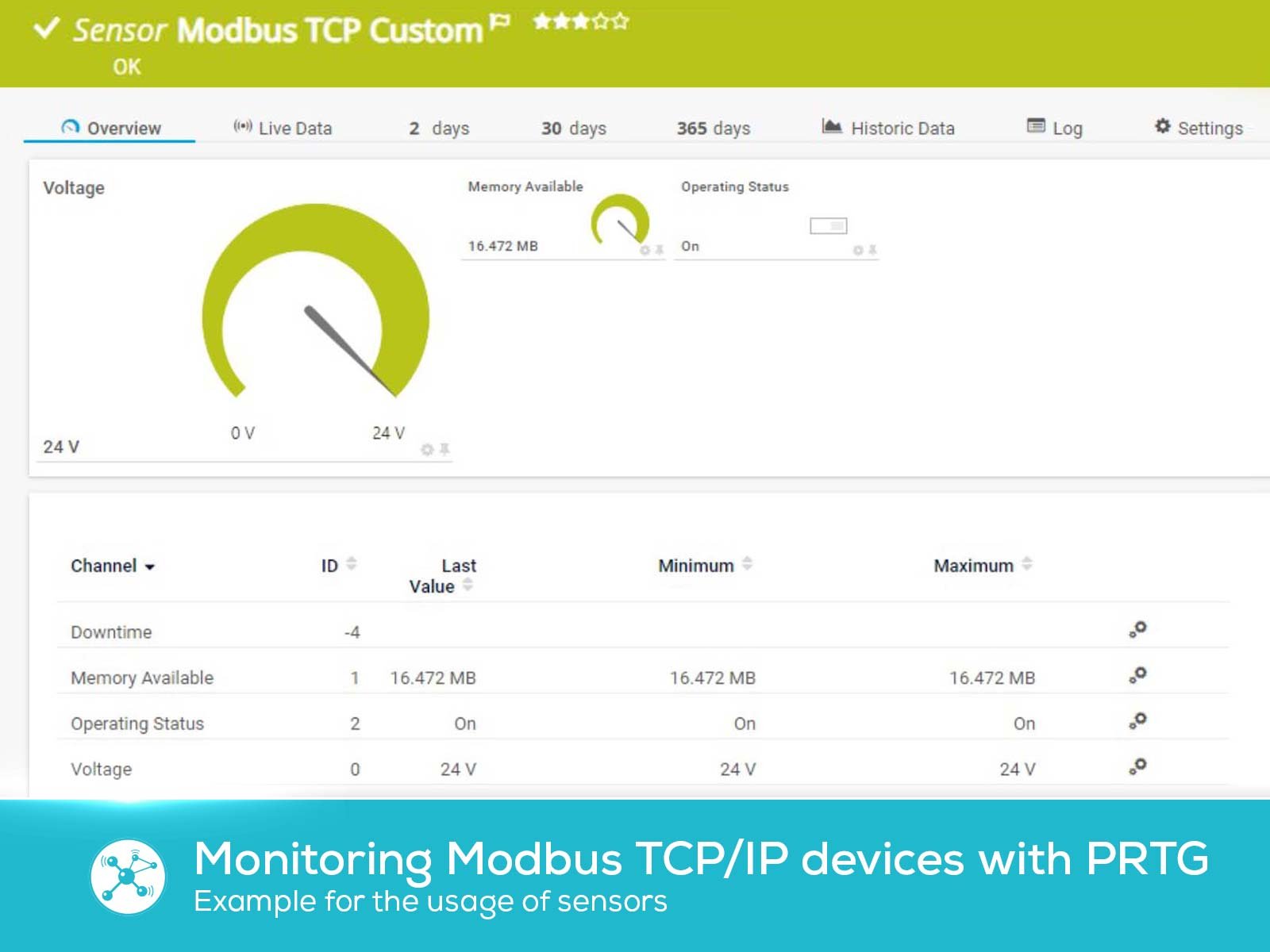 OT / IT convergence designed for scalability
With the Schildknecht/PAESSLER setup you can create the holistic Asset Monitoring system you are aiming for. It will give you an overview of the current state of your machines and other production equipment, as well as the IT devices, which may be just as crucial to keeping production up and running. And this setup is designed for scalability. You can start with including a small number of devices and machines, and go from there all the way to a company-wide monitoring system reaching OT/IT convergence. It can even can expand across production sites and locations, and work on a global level if needed.
Please don't hesitate to reach out to the Schildknecht IoT experts for a free and individual workshop to get feedback on your specific use case. The documentation of the IoT Quick Check analysis includes tangible action recommendations for you.