High-speed real-time wireless - into every corner
DATAEAGLE and Echoring are creating fast and fail-proof 5GHz radio data transmission systems
Machines and systems are situated in twisty places or distributed over different floors in a building, and numerous automatic guided vehicles are moving back and forth between different factory buildings, but still need to be connected directly and without interruption?
In the past, fieldbus installations via Industrial WLAN or Bluetooth may occasionally have reached their limit. But effective immediately there are no obstacles anymore in the 5 GHz frequency band, due to the combination of the proven DATAEAGLE technology from Schildknecht and the EchoRing concept developed by Berlin based R3 Reliable Realtime Radio.
First things first: In some cases radio based Ethernet communication reaches its limits. For instance, when your machine pool is expanding, but the machines in need of integration are situated elsewhere on the company premises, and thus the extension of the Fieldbus cabling can only be done with a lot of effort and at high cost. In these cases the patented DATAEAGLE technology can do the job with its standalone Bluetooth radio systems. But even DATAEAGLE has its limits in regards to radio technology.
With Industrial WLAN and Bluetooth it can get crowded
Firstly, industrial WLAN has limits. Usually located in the 2,4 GHz frequency band, data transfer is governed by the well-known "First come, first served" principle. No problem as long as the participants are close to each other, and walls or ceilings are not significantly compromising radio communication. It's more or less the same when it comes to Bluetooth: In most cases fieldbus installations integrating Bluetooth transmissions via DATAEAGLE work perfectly. But there are a few cases, when data needs to go "around the corner" or "through the ceiling", and when even the slightest transmission delay or quality loss is unacceptable. Under these exceptional circumstances it can occasionally get crowded.
What to do? When it comes to AGVs racing around corners, installing cables is not an option. To address this we started looking for alternatives to Bluetooth and WLAN – and we found EchoRing.
Stable transmission of pre-processed data
As opposed to typical WLAN setups or Bluetooth connections EchoRing uses the 5 GHz frequency band for data transfer. This ensures extremely low latency and stable and interference-free operations. While conventional WiFi architecture leaves little room for prioritizing specific data streams, the Token Ring technology of EchoRing allows for aligned, targeted communication based on service levels.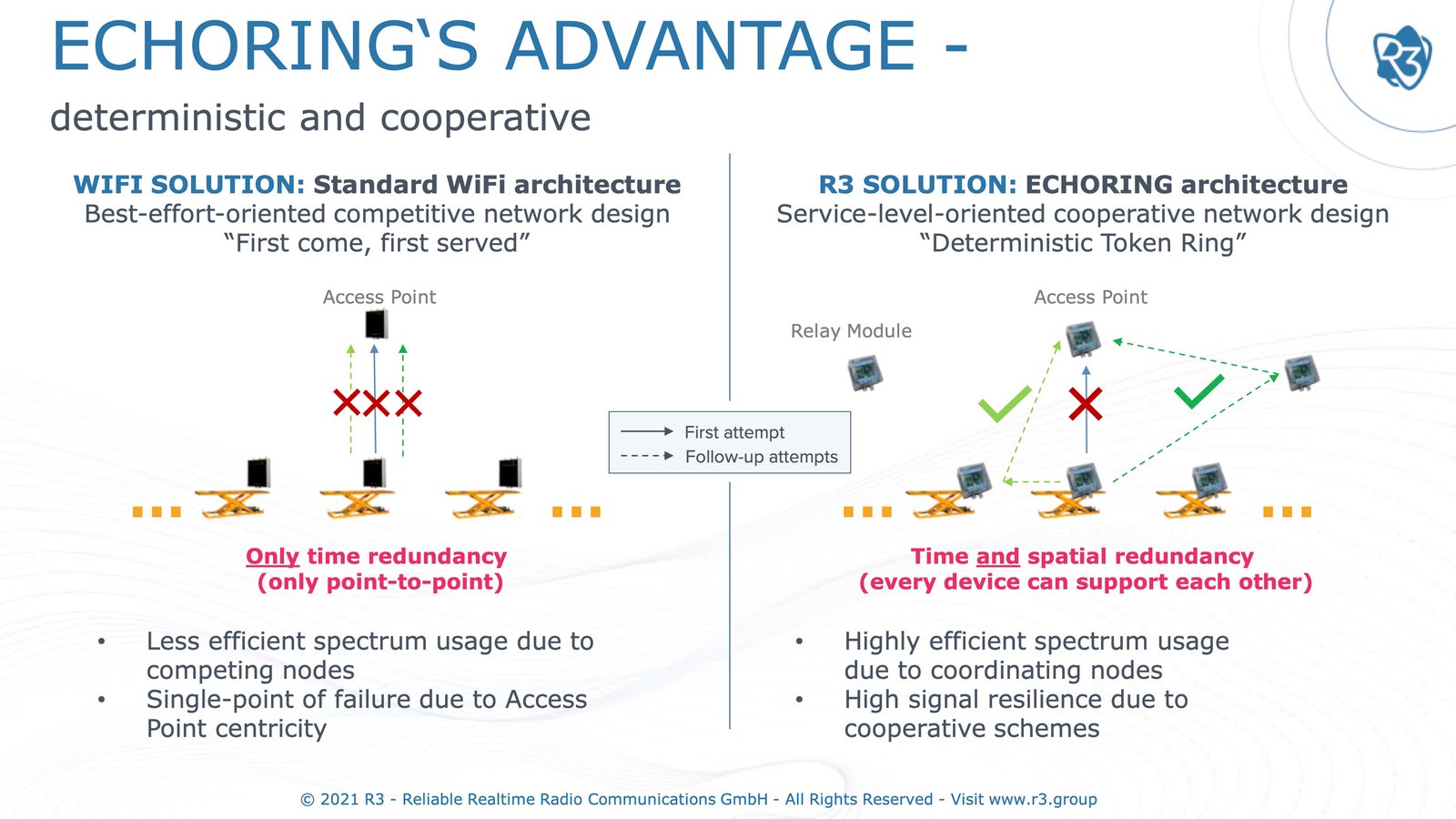 Perfect: EchoRing builds reliable radio paths, while DATAEAGLE can process information from all common Fieldbus protocols (PROFINET, PROFIBUS, CAN) in a way that ensures absolutely reliable transfer.
That simple? Yes, that simple!
Almost always 9 milliseconds latency at the most
In Schildknecht's "Sharkroom", where we put technologies to the test, we've scrutinized the DATAEAGLE / EchoRing combination in every detail. The use case we decided on was establishing a stable PROFINET communication between a conventional programmable controller and a decentralized I/O module.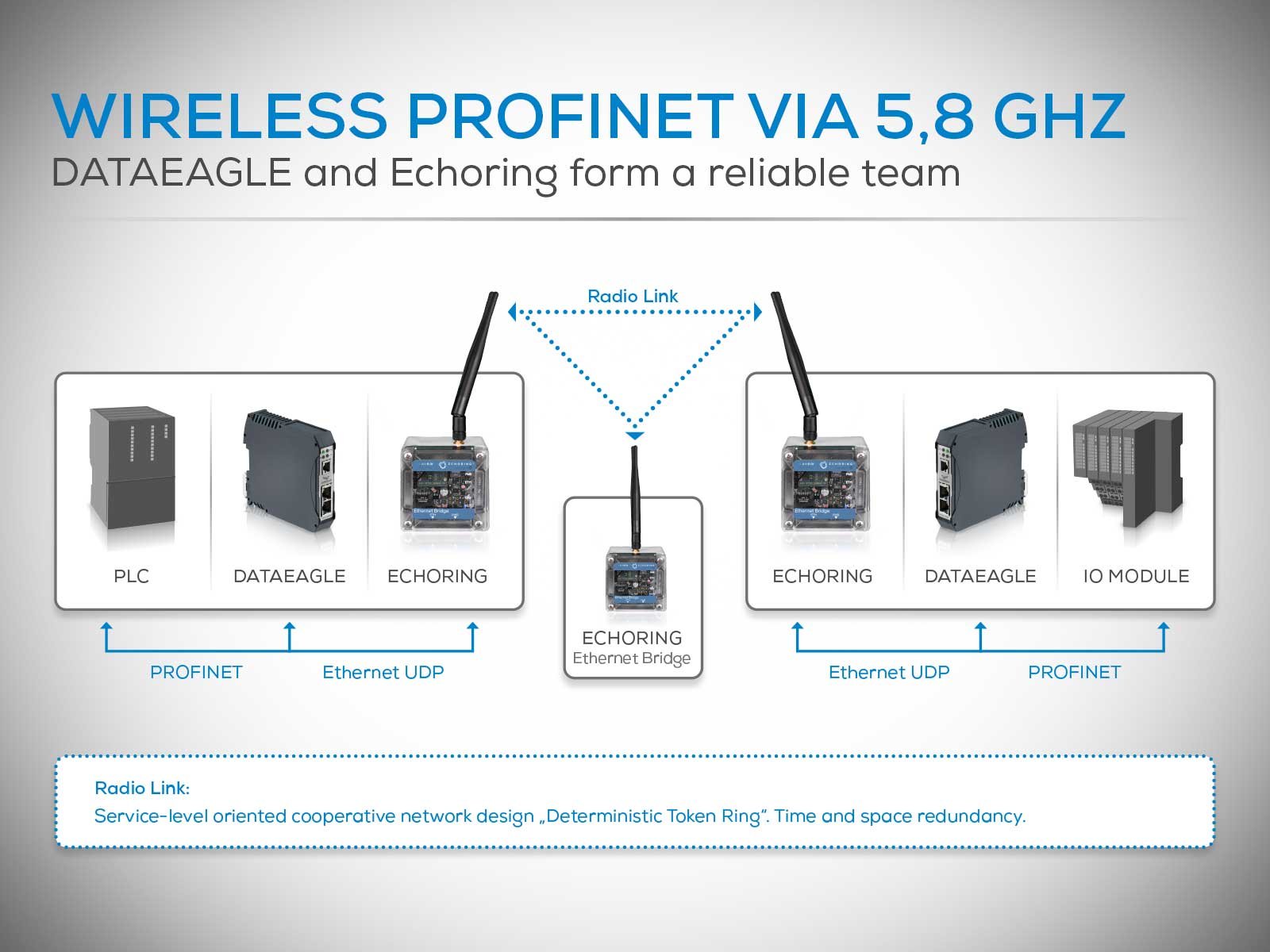 To prioritize the transmission data and to decouple the interface between the radio system and the controller, the signals were initially pre-processed by a DATAEAGLE module type 4U15 and converted into UDP packets. Transmission to the I/O module was done via an EchoRing radio system consisting of three radio modules, to secure highly reliable transmission and minimal latency.
The result: Approximately 95 per cent of all UDP packets were transmitted using the 5,8 GHz frequency band, with absolute reliability and max latency of 9 (nine!) milliseconds. In the worst case, transmission of a PROFINET telegram took 14 ms, according to our measurements. This proves that the Schildknecht/EchoRing solution is well fitted even for high-speed purposes requiring reliably low application time. It also means that combined with the patented DATAEAGLE technology the ability of the controller to perform real-time communication is assured. At 1 ms it can be compared to a wired connection. This makes this special solution stand out from any other common radio system available.
Now fieldbus via radio is absolutely equal to cables
And what does this mean for PROFIBUS applications, which fail to reach the required performance due to twisty building structures? It means that the previous limitations of WLAN and Bluetooth in regards to transfer technology won't be an issue anymore. As of now, with DATAEAGLE and EchoRing we can transmit fieldbus data regardless of protocol and across all system boundaries, into every corner if necessary.
Convince yourself: For selected applications we have prepared five test systems, and we invite you to test them in every detail. This is how you get started:
Reach out to us to find a fitting time for an appointment
Please let us know, for which specific application you would like us to pre-configure the test system
We will deliver the required test system to you free of charge. You can put this new transmission technology to the test, with personal support from an EchoRing specialist